Regular price
$299.00 USD
Regular price
Sale price
$299.00 USD
Unit price
per
Sale
Sold out
Elevate your style with our Cashmere Pashmina Embroidered Scarf in elegant beige. Indulge in the luxurious blend of cashmere and pashmina, as softness meets sophistication in this exquisite accessory.

• Hand-Embroidered & Handwoven Pashmina Cashmere Scarf
• Hand-woven 100% Cashmere Scarf (World's Finest Quality Cashmere)
• Size: 70 cm X 203 cm / 28 Inch X 80 Inch / 0.76 x 2.2 Yards (Approx)
• Base Color: Beige
• Thread Color: Multiple
• Condition: Brand New
Description:
Crafted with meticulous care, this scarf showcases the fusion of two exceptional materials: the finest cashmere and the intricate art of embroidery. The delicately embroidered patterns add a touch of timeless charm, turning this scarf into a wearable piece of art.

Wrap yourself in the warmth of cashmere and the beauty of embroidery, whether you're attending a special event or adding a touch of elegance to your everyday look. The neutral beige hue complements various ensembles, making it a versatile addition to your wardrobe.
Experience the indulgent comfort of cashmere pashmina against your skin as you embrace the softness and luxury it brings. The embroidered details, carefully woven into the fabric, create an exquisite texture that captures attention and admiration.
Our Cashmere Pashmina Embroidered Scarf in beige is more than a mere accessory; it's a statement of your refined taste and appreciation for the finer things in life. Whether draped over your shoulders or elegantly knotted, this scarf adds an element of grace to your presence.
Step into a world of opulence and style with this Cashmere Pashmina Embroidered Scarf. Immerse yourself in the feeling of pure indulgence as you enjoy the softness, warmth, and artistic beauty that this accessory brings. Elevate your ensemble with a touch of luxury and embrace the exquisite blend of cashmere and embroidery.
Shipping & Returns

Free Express shipping & returns
Care Instructions

Hand Wash or Dry Clean only
Share
View full details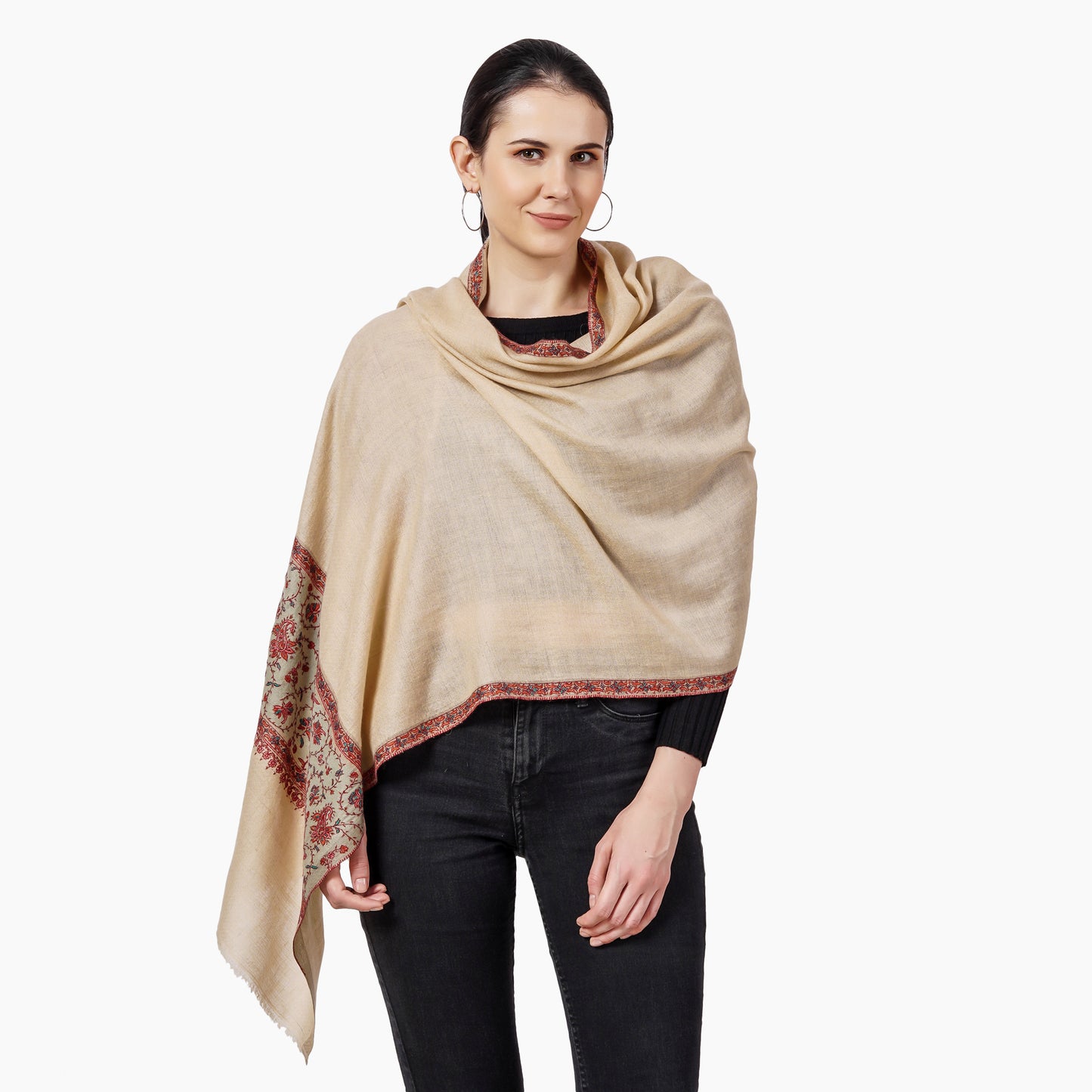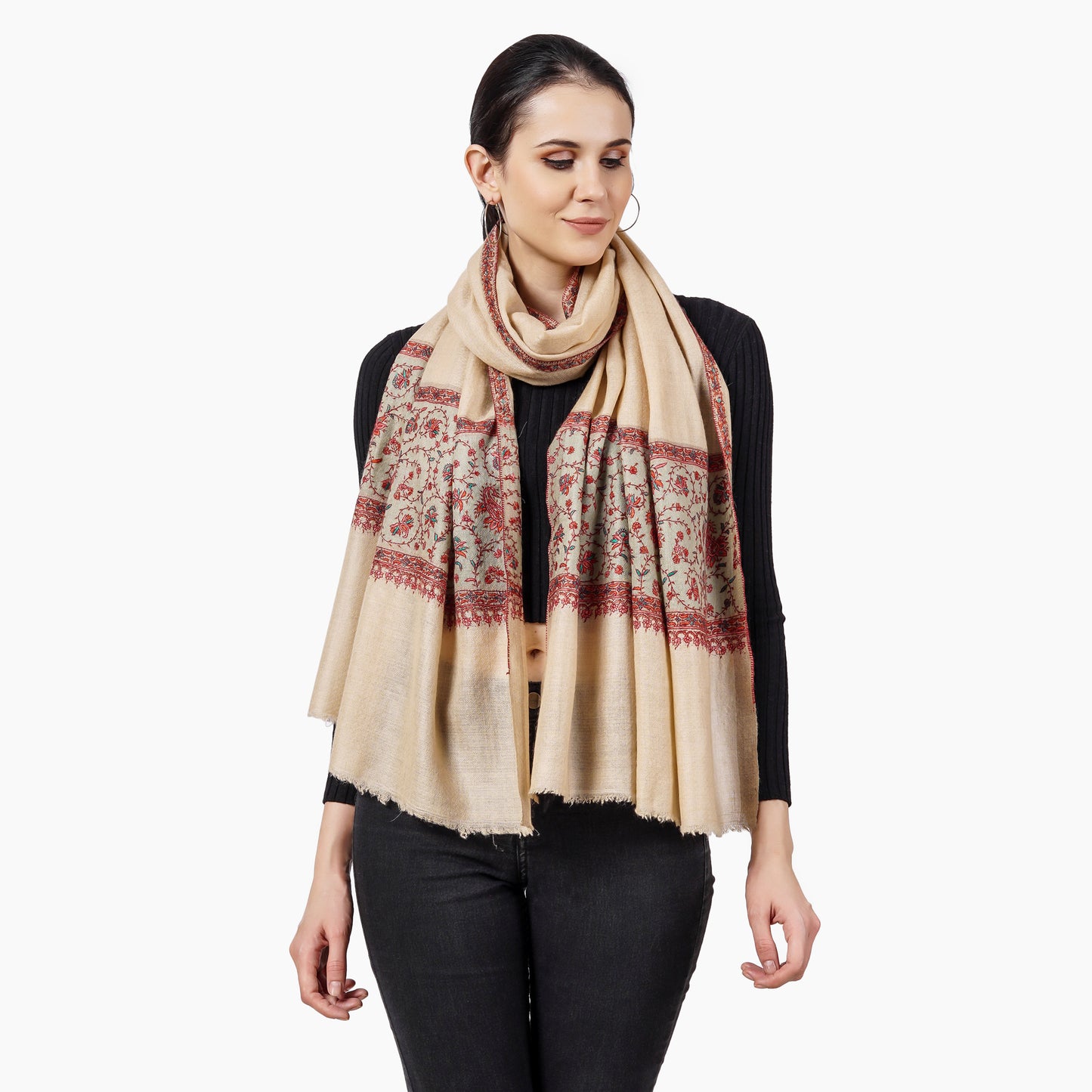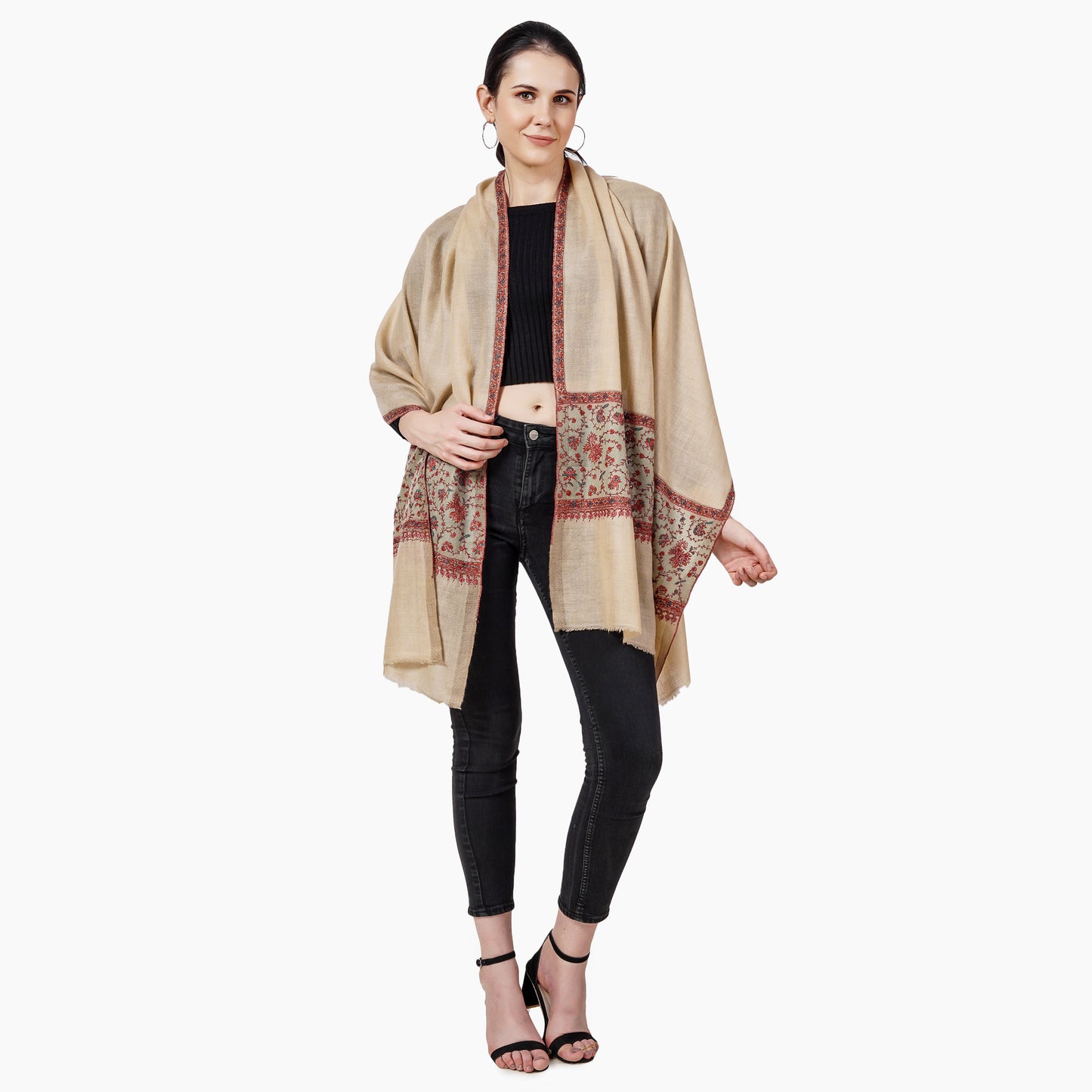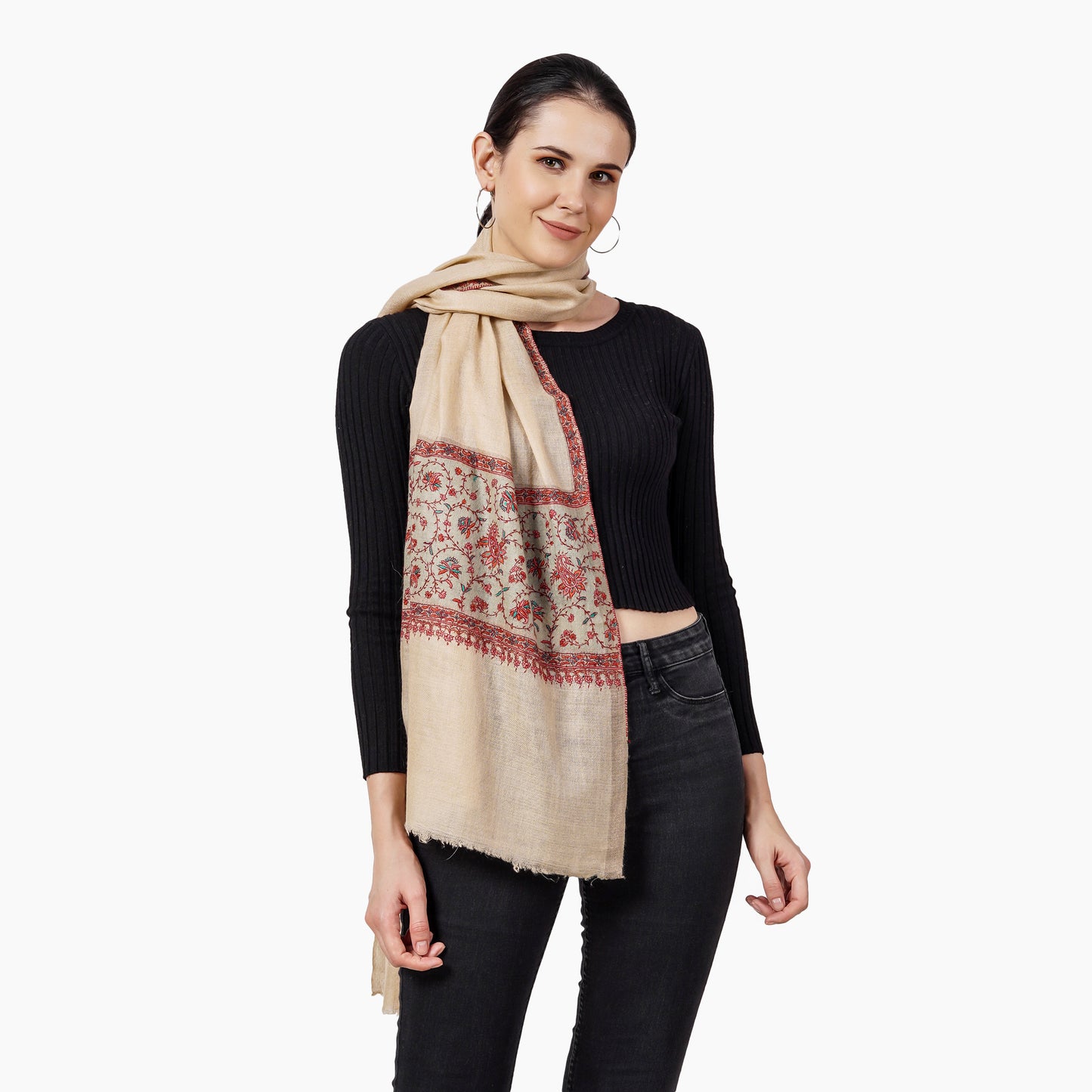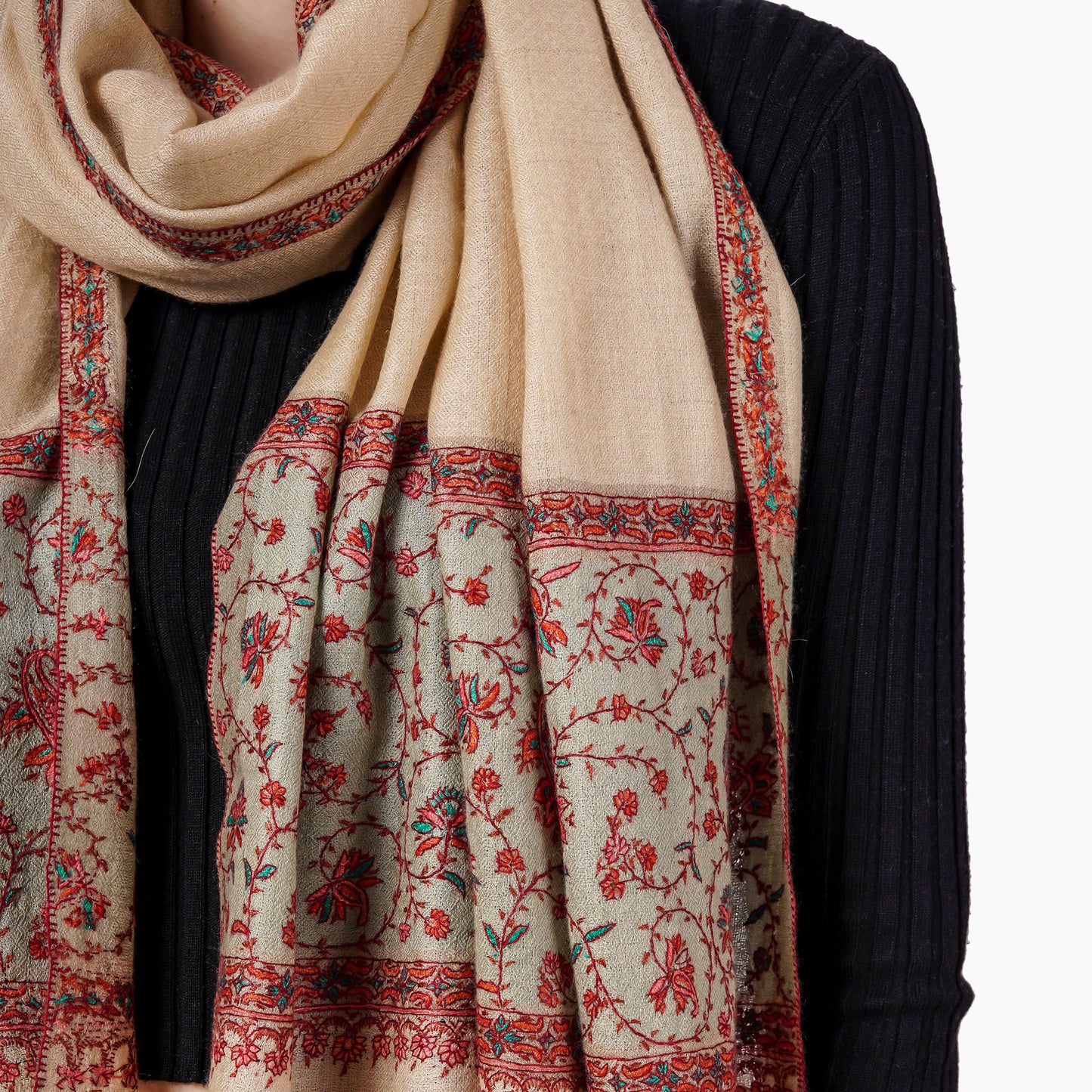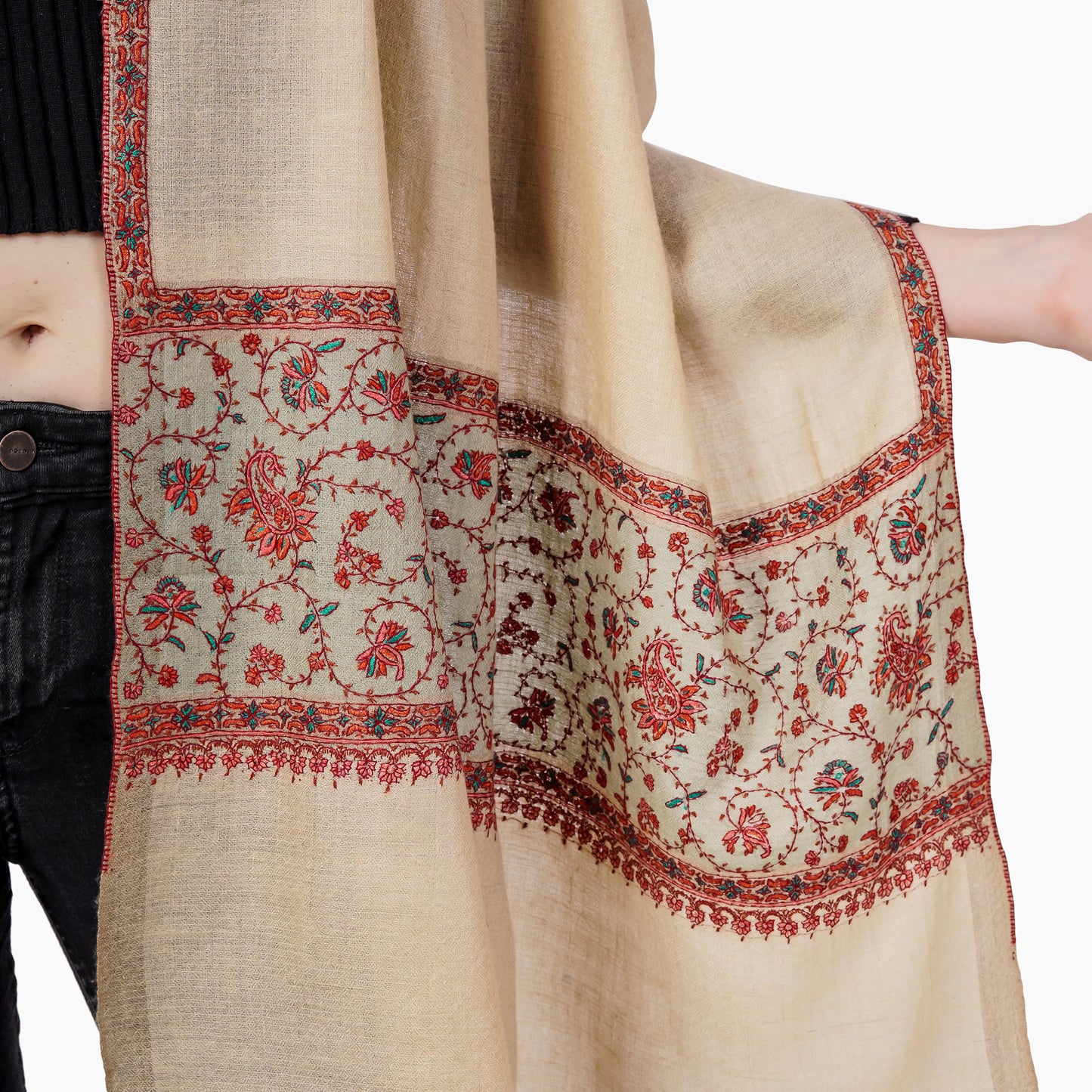 Free Shipping

Free standard Shipping all over the world!

No minimums.  No coupon required.

Hassle-Free Exchanges

All items purchased online are eligible for a refund or exchange. Please ensure you notify us within 30 days of date of original delivery.
LIFETIME BUY-BACK GUARANTEE
At Pashwrap, we are committed to providing our customers with the highest quality cashmere products. That's why we offer a lifetime buy back guarantee on all of our cashmere products. With Pashwrap's lifetime buy back guarantee, you can shop with confidence, knowing that your investment in quality is protected for life.
Know More
Our Manufacturing Process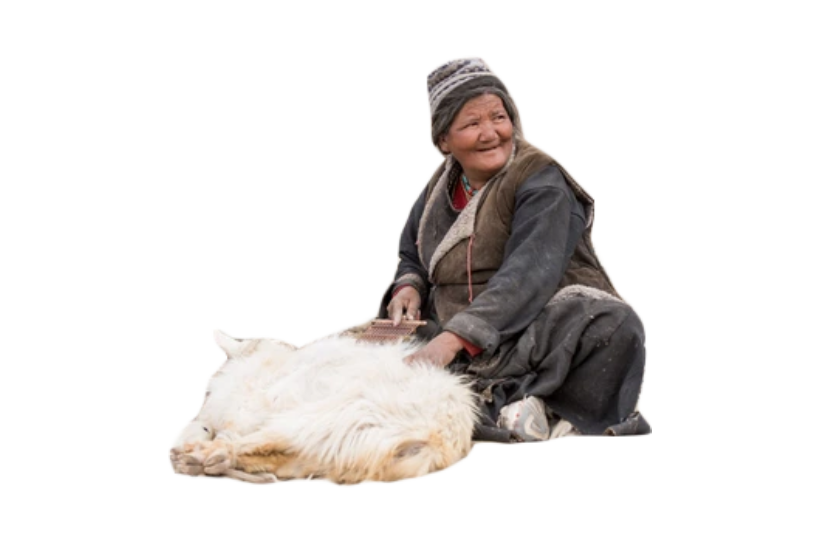 Harvesting Cashmere
The Cashmere goat(Chagra Goat)develop an inner fleece as a downy and doubling their usual coat thickness to withstand harsh winter in highlands of Ladakh where temperature goes down to-50°C. It is harvested in the spring bybrushingthe animals to collect the softer and longer hair, the finest ranging from the lower part of theneckandstomach.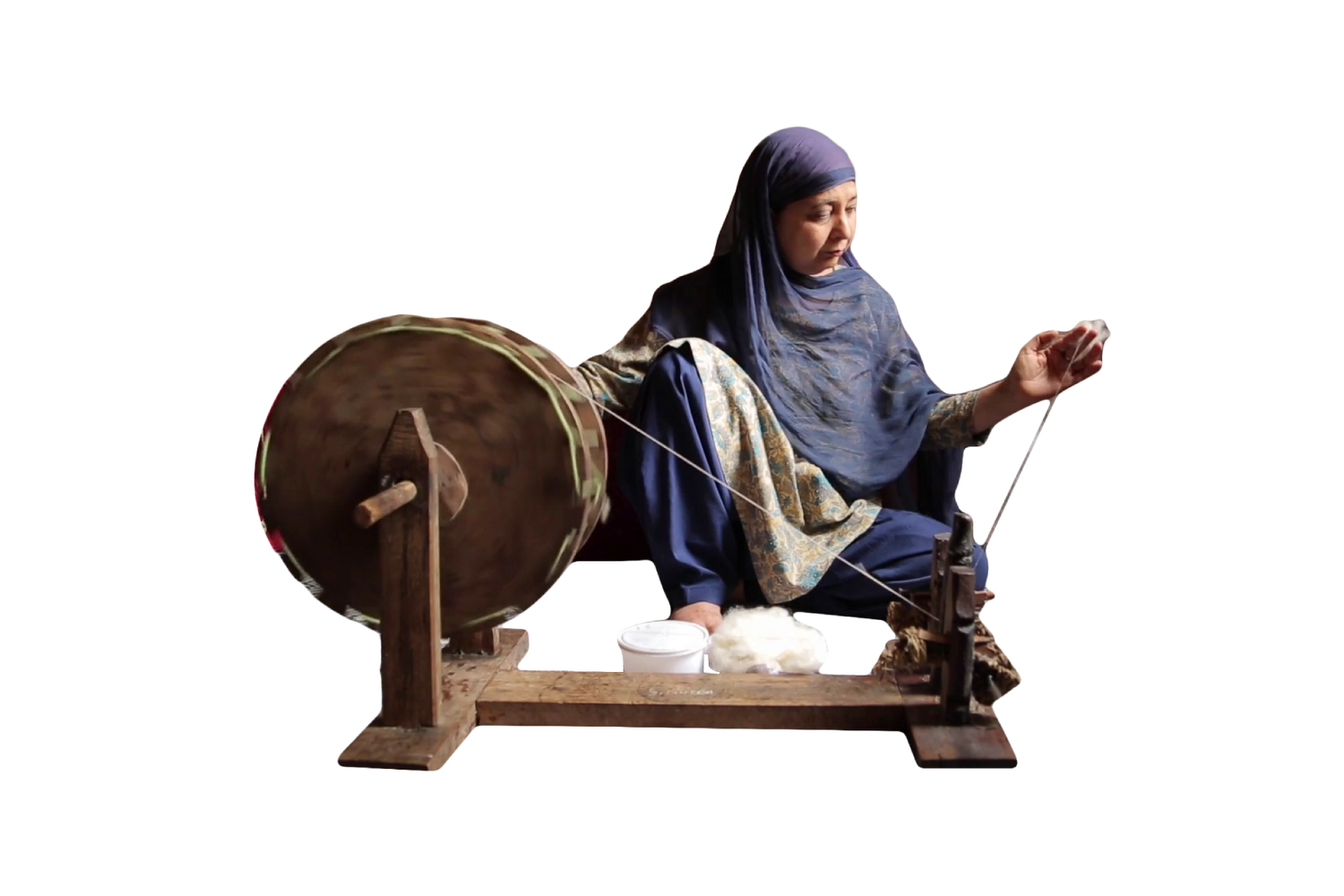 Spinning
Cashmere fiber is first spun by hand using aspinning wheel, it is very delicate work and traditionally done by women in villages across Kashmir. The craft is slowly vanishing with most Cashmere wool being sent to mills for spinning, we direct our efforts to provide optimum benefit to the women still practicing this craft despite the hardships.
Weaving
For centuries, the region of Kashmir has acquired unparalleled expertise in weaving Cashmere. The resulting natural yarn post spinning is then hand woven on traditional wooden looms using ancestral techniques. One of the most popular woven patterns, and for making the finest Cashmere, is bird's eye (Bulbul) or the diamond pattern.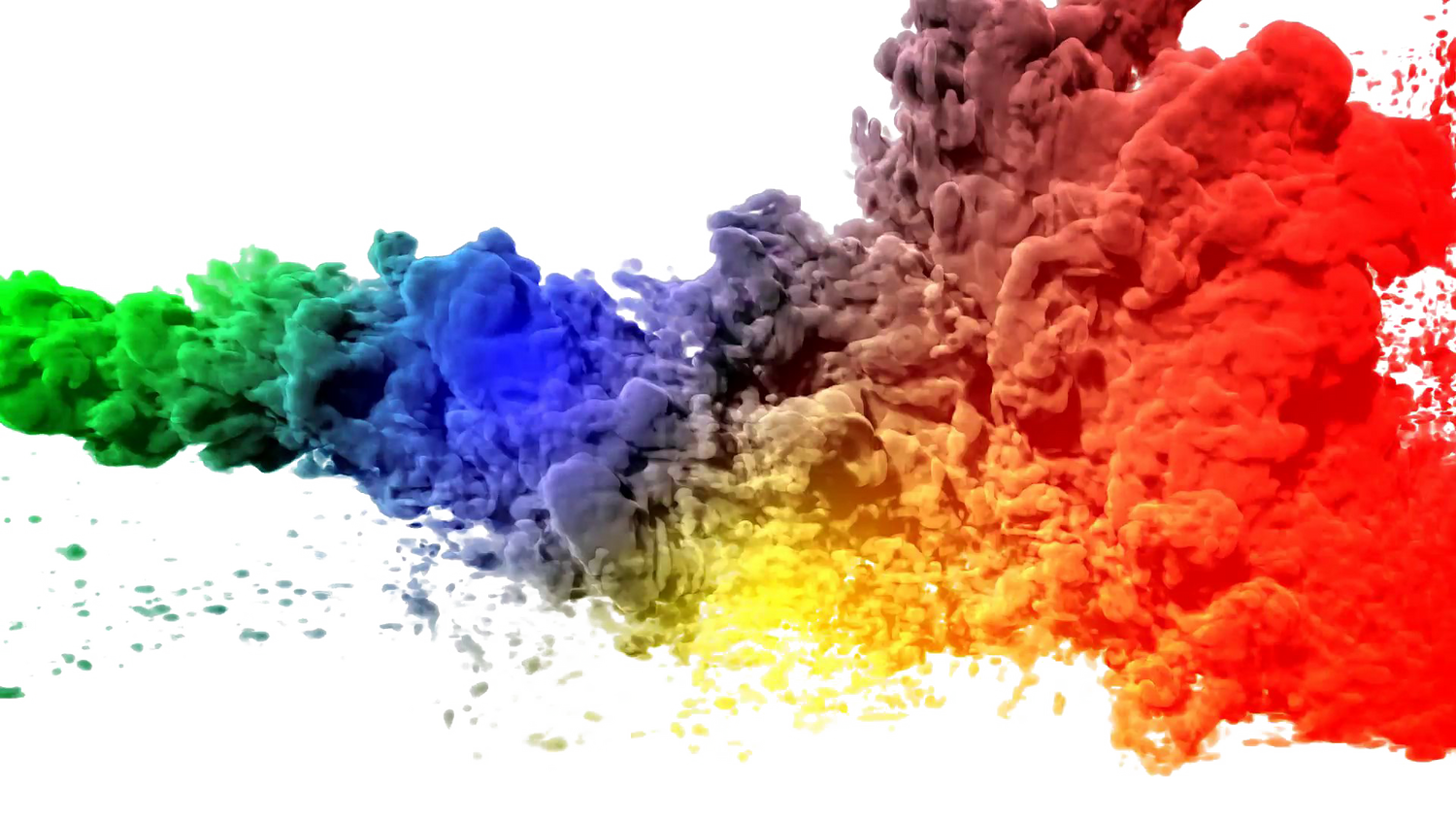 Dyeing
This is a very delicate process as, if not done properly, the dye can stiffen the Cashmere fibers. In our tradition dyeing process we use Azo free natural colors which help us to achieve a uniform, full and deep color without impinging on the feel of the Cashmere and safeguard Cashmere from color fade or bleed while washing or in sunlight.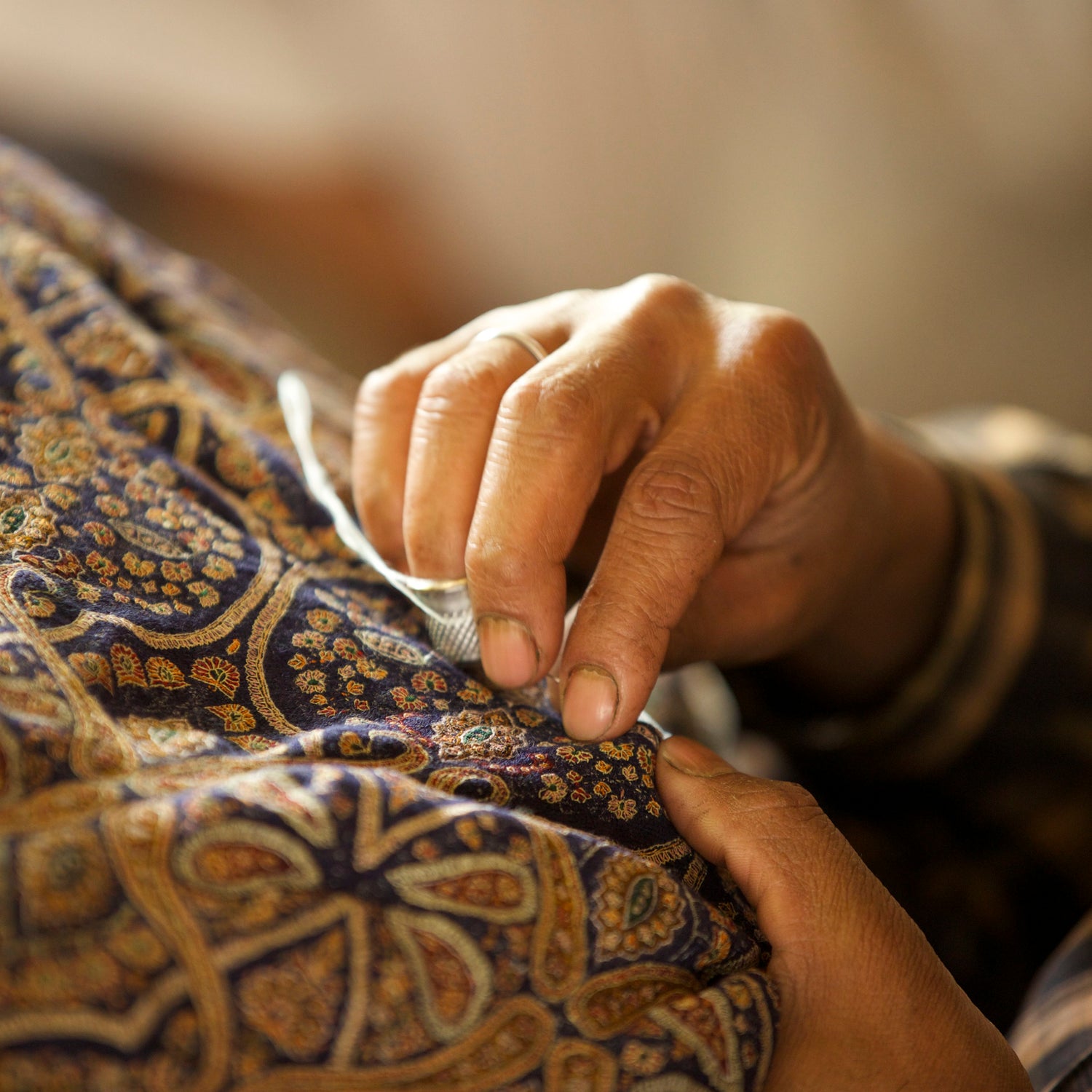 Sozni Embroidery
The hand embroidery is an Art mastered by only few skilled traditional Kashmiri artisans. Kashmiri Artisans are inspired from Nautural beauty of Kashmir and it reflects in their art work as the most recognized motif is of Paisley or 'amb' which sustains its popularity since 16th Century. Unlike factory produced wraps, Our products are one of a Kind as no design is of embroidery is replicated.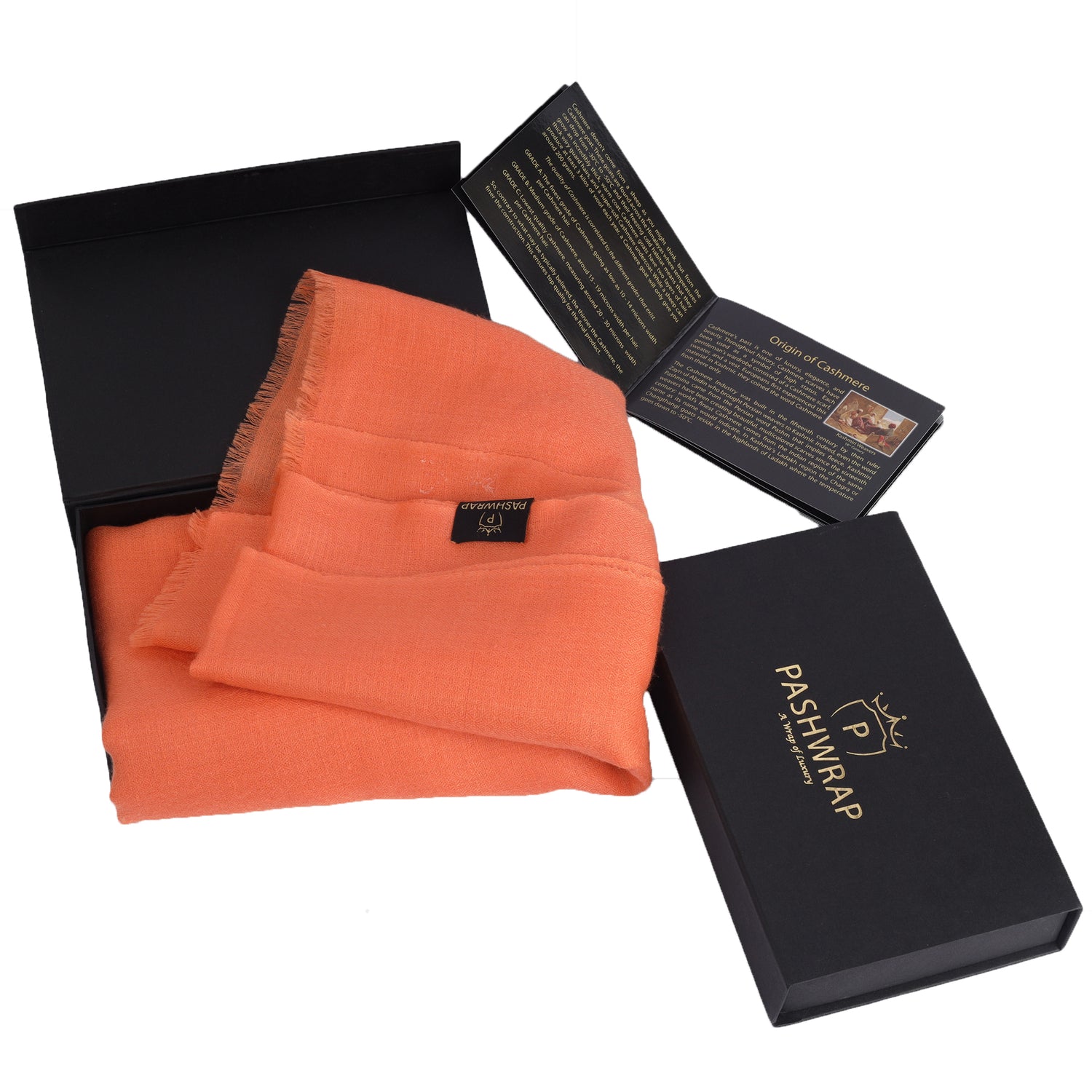 The most thoughtful and up-to-date choice for a present! Find a one-of-a-kind present that will instantly alleviate any concerns you have with the gift-giving process. The Pashwrap Cashmere Scarves are elegantly packed in a gift box that also Includes a booklet that highlights the method and use of the product. Since your loved ones are one of a kind, you should give this scarf to them as a tribute of your devotion since it perfectly captures their individuality.
Care Instructions:
Cashmere should be hand washed in cold water.
A wool/Cashmere shampoo or a mild detergent such as baby cloth detergent has to be used.
The detergent should be fully dissolved in the water beforehand.
Cashmere should be dipped in this water and rubbed gently with hands.
Soft Iron Only: Make sure you clean your iron thoroughly, Set the iron to the low or wool setting and use a pressing cloth between the garment and the iron.
Storage : Do not hang your Cashmere garments on a hanger, but store them folded up.